A lot of opinions on the name too.
Thanks for the link @Simon - good read - I especially like that PPAU got some air-time as well. Good on our members for speaking up.
Cheers
There is like 719 comments there, ive spent a while going through them, cant find PPAU references - can you post the link to the actual comments?
Cheers.
My read of the comments is exceptional support for policy platform, piss poor effort of the party in getting its branding and what it stands for out there ahead of time, and some people having issue that the name is a joke, which is always the case.
I do not read this as a ringing endorsement of the view that the electorate cannot take the name seriously.
This comment was interesting.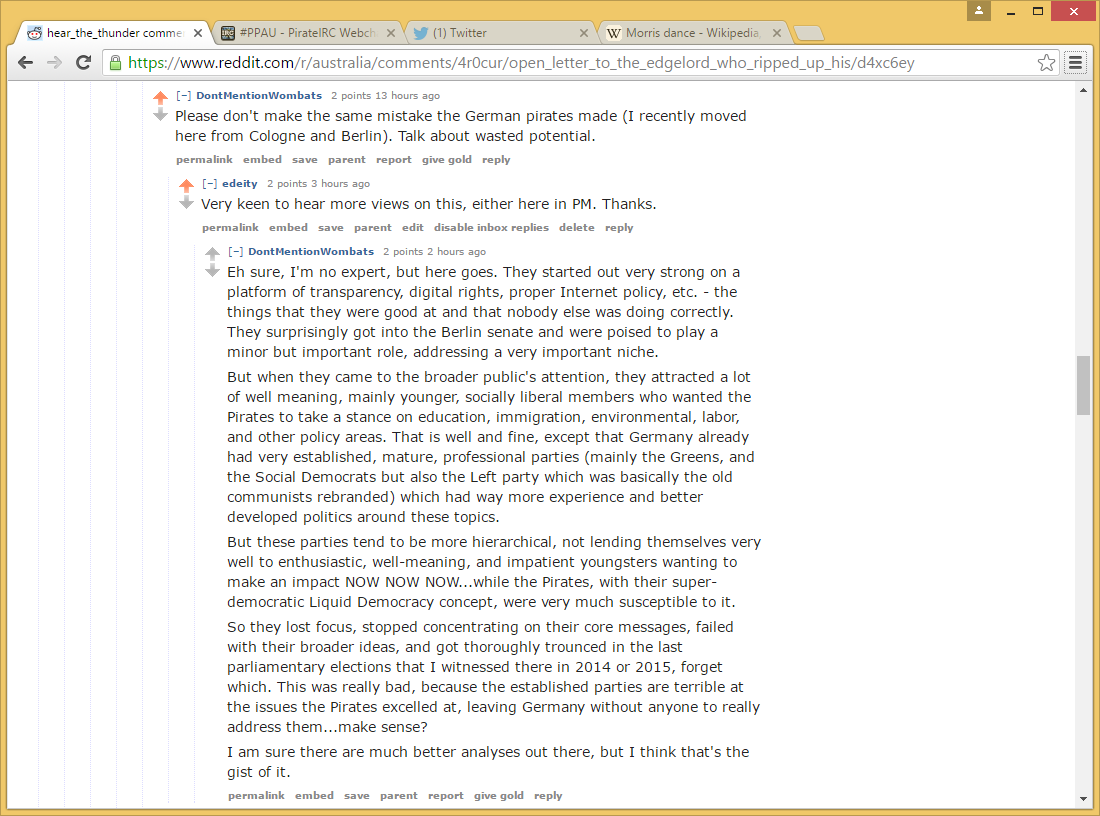 That's been a concern but I couldn't put my finger on it - what do we really stand for?
That's been enlightening - cheers
In a word: Creativity.
To have creativity you need two things:
Privacy. You can't be creative without the will to explore and do things which others will definitely not approve of.
Sharing. You can't be creative without both ingesting other art, and having a way to give your own art out.
Note there's no mention of "affordability" or regular capitalism there. We are a party and a movement that wants to restore creativity. Why is this important in a technical age? Because more and more of our lives are:
Public, which means we can't think and explore
Controlled, which means we can't consume or produce art without middlemen.
This is true even for things which happen within a family. Increasingly, people upload baby photos to Facebook, videos to YouTube. These are some of the biggest corporations in the world.
Unfortunately, "artists" are worried about protecting their cashflows, and they don't realise just how thoroughly, Lovecraftially fucked they are going to be when writing a book draft, or playing an instrument, or putting together a film. But hey, you can get your Anarchist song lyrics printed on Visa cards now.
Do not get me started on the German or Berlin Piratenpartei. There is much more going on than just a deviation from core themes.